See Order Form for prices. Schematic Diagram (36K GIF)
For more info see the Application Notes. Complete Kit Instructions (307K PDF)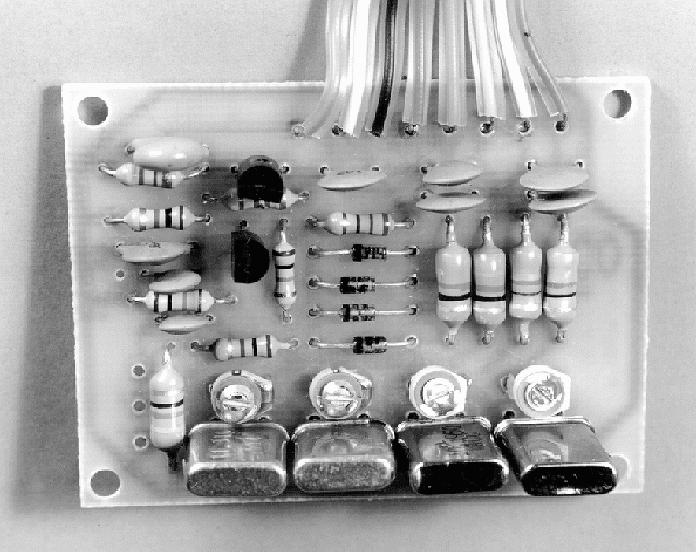 EXPANDER 160
Crystal Oscillator &
4-position Electronic Crystal Switch

Expands frequency range of most PLL type
CB radios. Adds up to 120 extra channels.*

Perfect for 10-Meter Ham conversions or
the type of PLL modifications described in
THE CB PLL DATA BOOK.

The EXPANDER 160 is a compact crystal oscillator which allows up to four crystal mixing frequencies to be injected into the PLL synthesizer circuit. This gives a potential of 4 x 40 = 160 channels in a CB radio. Since only one switch is needed, there's no complicated multiple switching as in binary or BCD PLL expansions, and no skips except for those already in the Channel Selector. A unique wire jumpering arrangement allows the circuit to be used just as a remote crystal switch when the oscillator function isn't needed, similar to the EXPANDER 240 described on a separate page. The small PC board fits inside the radio and connects to the PLL circuit, DC power, and your favorite type of hard switch (toggle, slide, rotary, etc.).

FEATURES:
· Buffered oscillator output prevents possible loading effects.
· Wide range crystal trimmers allow exact frequency adjustment.
· Remote diode switching eliminates the problem of stray capacitance found in long wire runs to mechanical switch boxes.
· Simple construction. High-quality PC board with screened parts overlay and solder mask. Kit includes all parts and wires (except crystals and switch) plus detailed assembly and installation instructions.
· For all 23- or 40-channel PLL CBs using a loop mixing circuit. Includes: HD42851, LC7110, LC7113, LC7120, M58472P, M58473P, MB8719, MB8734, MC145f06, MM55116, MC14568, MSC42502P, MSM5907, NDC40013, NIS7261A, NIS7264B, PLL02A, REC86345, SM5104, SM5118, TC5080, TC9102, µPD858 (AM-only), µPD861, µPD2814, µPD2816, µPD2824.

NOTE: Some of these PLL circuits only require the crystal switching function and will also work with the EXPANDER 240.

*Total bandwidth depends upon radio circuitry.

IMPORTANT NOTES:
1. Due to the large number of crystal frequencies and mounting possibilities, the crystals and the hardware switch are not included in either kit.
2. The following PLL circuits can't be modified with these devices: C5121, LC7130, LC7131, LC7132, LC7136, LC7137, LC7185, LC7232, LC7234, MB8733, SM5123A, SM5124A, SM5125AM, SM5125B,TC9105, TC9106, TC9109, TC9119.
3. Installation should only be done by a qualified technician with access to the radio's service manual or schematic.

IF UNSURE WHICH KIT IS BEST FOR YOUR RADIO, SEND US A LARGE
STAMPED S.A.E OR EMAIL MESSAGE AND THE EXACT RADIO MAKE AND MODEL.

SOLD ONLY AS PLANS + PC BOARD

Manufactured by:
CBC INTERNATIONAL · P.O. BOX 30655 · TUCSON AZ 85751 U.S.A.
TEL/FAX: 888-I-FIX-CBs (1-888-434-9227), (520) 298-7980
Electronic Mail:
To send us an email now, click

here

.